The Democrats' Robert Mercer
Tom Steyer is calling for the impeachment of Donald Trump. But can his plays for power rival those of hedge fund peer Robert Mercer?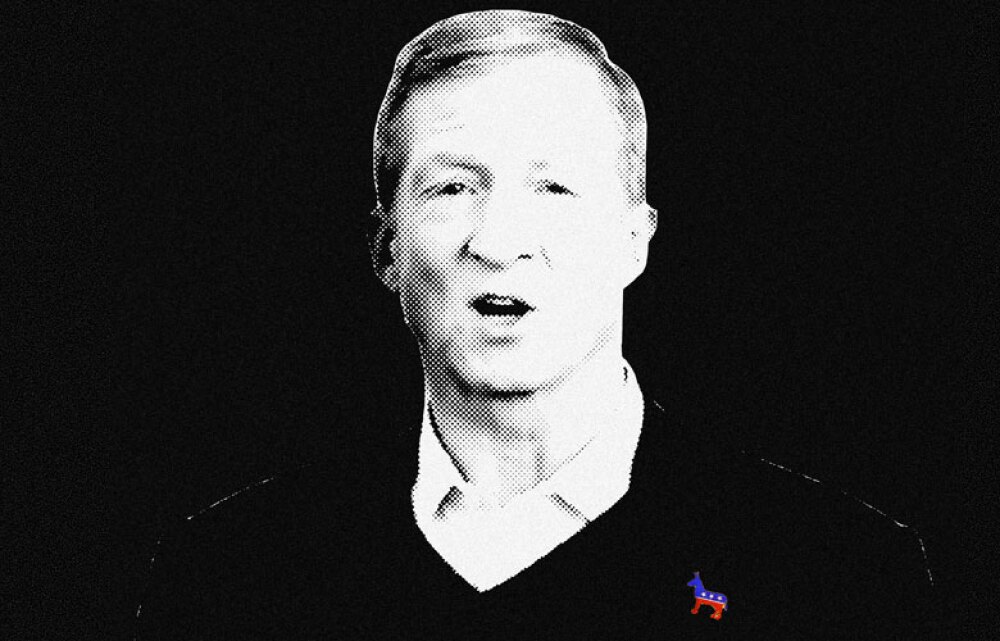 The ad opens with grainy footage of President Donald Trump at a podium, waving his fist toward a crowd.
"He's brought us to the brink of nuclear war; obstructed justice at the FBI; and, in direct violation of the Constitution, he's taken money from foreign governments and threatened to shut down news organizations that report the truth," a voiceover warns.
Cut to hedge fund founder Tom Steyer, with the somewhat vague title of "American citizen" floating beneath his name. He's calling for the impeachment of Trump: pleading with viewers to go online, sign his petition, and pressure Congress to take action.
Often rumored to be running for office himself, Steyer, who has a respected money management background, has consistently been one of the largest donors for the Democratic party since the early 2000s, data shows. But whether his clout can amount to that of his opposite, the legendary Republican donor and hedge fund manager Robert Mercer, remains to be seen.
"I think they're sort of opposite sides of the same coin," says Sarah Bryner, research director at Open Secrets, a database for campaign finance information. "The difference I would think is that Mercer seems to exercise more soft power."
Steyer began his career at Morgan Stanley, and then rose through the ranks of Goldman Sachs and private-equity firm Hellman & Friedman, before founding his own hedge fund. That fund, now known as Farallon Capital, was started in San Francisco with just $15 million back in 1986. This firm was where Steyer made much of the wealth he is now plowing into advertisements for impeachment and into Democratic candidates' campaign coffers. By the time Steyer retired from Farallon in 2012, he was managing an estimated $20 billion, according to a contemporaneous report from Institutional Investor's Alpha.
During the 2016 election cycle, Steyer was listed as the top individual contributor nationwide by Open Secrets. According to the database, Steyer spent $10.3 million on Democratic candidates in that election. That generosity continued: Steyer's advertisements, estimated to have cost $20 million thus far, started popping up on news networks in October 2017.
This isn't Steyer's first foray into activism.
"Steyer has linked himself to a specific issue," Bryner said. "He has become a major Democratic backer, but he started out as a purely environmental donor." In 2010, he fought — and won — against California's Proposition 23, which would have rolled back the state's landmark global warming bill. Just a few years later, in 2012, Steyer pushed to pass Proposition 39, which closed a corporate tax loophole in the state. And in October 2013, he worked with former New York City Mayor Michael Bloomberg and former U.S. Secretary of the Treasury Hank Paulson on an initiative called "Risky Business," which assessed the economic risks that climate change poses. Soon after, Steyer founded NextGen Climate, a nonprofit and political action committee that works to prevent climate disasters.
When the advertisements prominently featuring Steyer first came out, rumors that he planned to run for office in 2018, or even 2020, abounded. But on January 8, Steyer quieted those rumors at a news conference, saying his focus is encouraging young people to vote.
Compare that to Robert Mercer, who, until late 2017, headed up legendary hedge fund firm Renaissance Technologies. Mercer stepped down in November after his ties to Breitbart, the alt-right news site that he has poured capital into, became widely publicized. In addition to stepping down from RenTech, Mercer sold his stake in Breitbart to his daughters.
Mercer is relatively private, rarely speaking on the record — and especially not through television ads. Yet he appeared eighth on the list of overall individual contributors for the 2016 federal election, plowing roughly $25.6 million into mainly conservative candidacies. During that same election cycle, Mercer's super-PAC, Make America Number 1, spent $19.6 million, Open Secrets shows.
"I think the interesting thing for both of these men is that they're both new to the scene," Bryner said. "It's less about establishing control over the party and more about instituting their own agenda on their own terms. I think it is emblematic of the type of industry that they come from."
If money matters in politics, Mercer's super-PAC played a major role in electing Trump to the presidency. However, that's not all Mercer was able to do to encourage Trump: Breitbart, which is in part funded by Mercer, played a major role in the 2016 election, pundits say.
This is one major difference between Steyer and Mercer: Though Steyer has the ability to contribute millions to campaigns of his choosing, he has thus far not directly backed a media company, much less one that he can use to telegraph his political message to the public.
Still, Bryner said, both will likely continue to wield power in upcoming elections. "Neither of them are particularly closely linked to the party or the party structure in the same way that people in the past were," she said. "They're independent, or so it seems, at least."