America's Top Executives' Big Secret: Be Boring Until It's Time to Move
"Transforming the world's data center infrastructure for the era of AI is a massive undertaking that will require the concerted effort of the entire industry."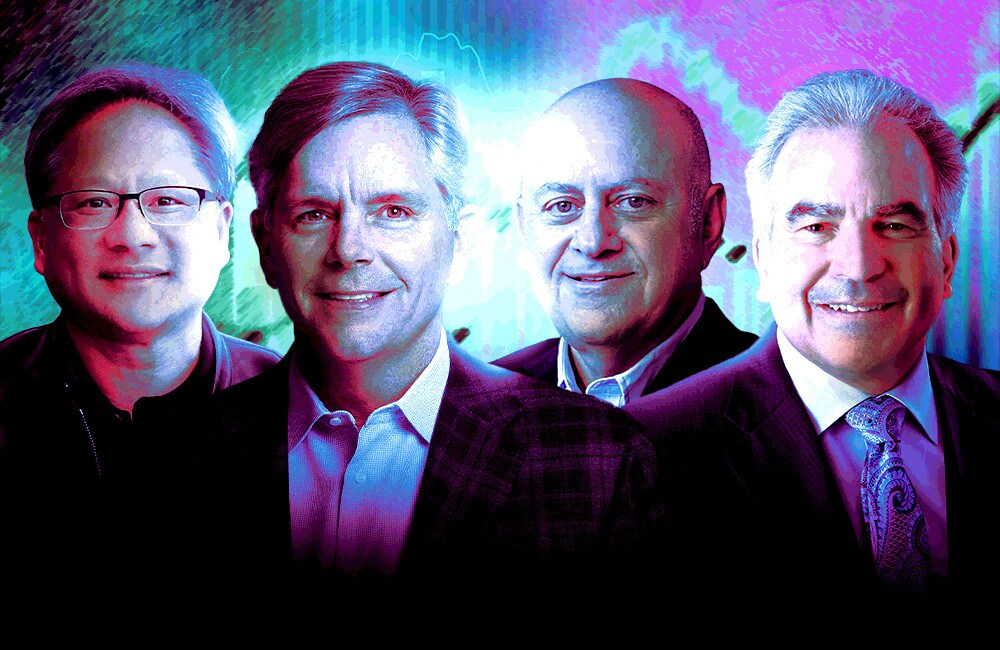 It's okay to be dull.
That's the takeaway for some of the top-scoring leaders on Institutional Investor's All-America executive team, who held back during the economic uncertainty of the past half-decade so they could be ready to fly when conditions improved.
"Basically, the biggest lesson I learned in 2023 is that it's okay to be boring, and that it pays dividends in the end," says Jack Fusco, chief executive of Cheniere Energy, who is recognized for his exceptional leadership by sell-side and buy-side voters in the II survey. Under Fusco, Cheniere has spent decades refining operations to capitalize on the expected exponential global growth in demand for natural gas in the next few years.
In June, Cheniere reached a 20-year deal to annually supply 1.8 million tonnes of liquefied natural gas to China. The agreement came after Western nations sanctioned Russia, the globe's foremost supplier of natural gas, leaving the world scrambling for alternatives. "Cheniere's ability to confidently move forward on new, decadal infrastructure comes only because we have kept our heads down and focused for years on the details, on the core things that matter," Fusco notes.
Hamid Moghadam of Prologis has taken a similar approach: "The year reinforced what we've known for a long time — the markets will change, but because we've built our company to weather all cycles, we can weather any uncertainty." Moghadam is the top-scoring chief executive in REITs, a sector that remains steady in times of uncertainty as customers tend to take a more conservative approach, holding on to inventory rather than waiting until the last minute to buy.
The challenges arise when clients want to push forward with new projects at a moment when authorities are pulling back. Moghadam says the long-term cultivation of a reputation for reliability with policy makers and utility companies is paying off. "We are working closely with our external partners because getting these projects permitted and operational will benefit not only our customers, but also the communities in which we operate," he explains.
Lawrence Culp of General Electric agrees that focus is a secret weapon, and his biggest lesson of 2023. Culp became the first outside candidate to head up GE, just five years ago. He is the top-rated chief executive in the electric equipment sector, perhaps in recognition of his bold decision to split the 130-year-old conglomerate into three distinct and separately traded entities: aerospace, energy, and health care. Culp says he was often asked, when the split was announced two years ago, whether this path would compromise meaningful economies of scale or expose the businesses to specific market risks. "I would answer that, while there certainly are synergies to be found in any multi-industry group, in GE's case, I would take the benefits of focus over the often illusory benefits of synergy any day of the week," he tells II. This kind of detail orientation allows GE to deal more effectively with areas of the business that need a little more attention, Culp says, such as offshore wind.
Even in sectors involving the technology of the future, success has been built on decades of hard work.
Nvidia laid the foundations of accelerated computing, which speeds up traditional processes by breaking them down into smaller chunks that can be worked on in parallel, with the introduction of the GPU parallel processing chip in 1995, according to chief executive Jensen Huang. Huang was voted first in the semiconductors sector after Nvidia's share price rose to record highs in the last quarter.
Today Nvidia supports more than 4 million developers and more than 3,000 computationally intensive applications — from climate simulations and factory digital twins to AI-enhanced search, driving autopilot, and ChatGPT. "Nvidia accelerated computing hasn't only paved the way for AI, it is also paving the way for sustainable computing," Huang tells II, noting that faster processing is also more efficient.
Even in fragmented markets, Huang spied new business. Many nations have found reason to invest in their own AI infrastructure even as the global market develops, he notes.
The only possible stumbling block for Nvidia? Meeting demand. Huang says the biggest risk there — in light of the ongoing semiconductor shortage — is geopolitics. There, too, Huang appeals for stability, rather than the fragmented markets created by sanctions: "Over the long term, disturbing the status quo can change the trajectory of the global technology market."
---
Hamid Moghadam, Prologis
First place, financial institutions, real estate investment trusts
What was the biggest lesson you learned in 2023?
This year has been an interesting one in which we saw normalization descend after the demand highs of the pandemic, particularly as a result of the unprecedented rapid rise in interest rates. Despite evolving financial policy and geopolitical tensions, we see vacancies holding tight, with our global portfolio 97.5 percent leased. The lesson from this year is that the fundamentals of our business are proven drivers of growth. We have the best team in the business, the world's highest-quality and best-located portfolio, and a growing suite of solutions that serve our customers' needs well beyond any competitor. All of that adds up to a business that not only can [withstand] any challenging economic environment, but also is ready to take advantage of the opportunities that may come our way.
What is the greatest challenge you are facing in 2024?
The environment in which we are building new projects is more and more complicated. Projects are taking more time to get entitled or to get utility interconnection. As a result, our relationships with local governments, utilities, and other policymakers and regulators are becoming far more important. As an example, our company committed to achieving net zero emissions across our value chain by 2040. As part of this commitment and in response to our customers' needs, we are building a new clean energy and mobility business. These types of regulatory approvals and infrastructure upgrades can take months to years. The team continues to do a terrific job getting our projects entitled and securing the connections we need, but it is certainly an added complication for our business.
How is geopolitics affecting your business?
The geopolitical backdrop has become more troubling, creating some uncertainty that will likely weigh on demand. However, we all learned during the pandemic that times of uncertainty or disruption [require] a greater emphasis on maintaining inventory. We see our customers have a bias toward a "just in case" approach to inventory management versus a "just in time" approach, which we see when the world is less unsettled. So generally, geopolitics may not have as big of an impact on our business as it does others.
---
Jensen Huang, Nvidia
First place, semiconductors
What was the biggest lesson you learned in 2023?
We'll look back on 2023 as a remarkable inflection point — not just for Nvidia, but for AI and the computer industry, and for human technological progress more broadly. Years of sustained effort led to the reinvention of computing and the "iPhone moment" for AI, sparking the next industrial revolution. Our company invested toward this moment for the better part of three decades. We laid the foundation for a new computing model called accelerated computing — starting with the introduction of our GPU parallel processing chip in 1995. The accelerated computing platform is now ubiquitous. In data processing, gene sequencing, weather prediction, and speech recognition, Nvidia's accelerated computing is orders of magnitude more energy-efficient than traditional general-purpose computing. It's the best way to reclaim power and support the exponential growth in compute resources fueling the AI industrial revolution.
What is the greatest challenge you are facing in 2024?
The greatest challenge is supporting the exceptionally strong demand for generative AI. There has been a phase shift in our industry. A new type of data center has emerged — akin to an "AI factory" — specially built for processing, refining, and transforming vast amounts of data into AI "tokens," or digital units that encapsulate knowledge, intelligence, and creativity. These AI factories, built on our accelerated computing infrastructure and software, run AI models that can perform advanced professional tasks like writing, coding, and creating art in mere seconds — dramatically boosting human productivity. Companies in every industry and in many countries are investing in generative AI and building AI factories to boost their output. Transforming the world's data center infrastructure — an installed base of more than $1 trillion — for the era of AI is a massive undertaking that will require the concerted effort of the entire industry, from equipment manufacturers to data center operators to cooling system vendors to cloud and software providers. I have no doubt that Nvidia and our ecosystem partners are up for the challenge.
How is geopolitics affecting your business?
The U.S. government has expanded regulations on technology exports to China and certain other regions to support national security goals. Though this won't affect our business meaningfully in the near term given the strength of worldwide demand for our products, over the long term, disturbing the status quo can change the trajectory of the global technology market. When the market landscape changes, new dynamics form and opportunities arise for new entrants. As AI advances, U.S.–China and U.S.–world cooperation and alignment can best ensure that the focus is on harnessing the power of AI to better society and not on weaponizing it against adversaries. Interestingly, geopolitics has also given rise to some new opportunities. Countries are awakening to the need to build indigenous sovereign AI infrastructure to train their own large language models, capitalizing on their own data and reflecting their own cultures and values. For example, on a recent trip to India, it became clear to me that India will become one of the largest AI markets in the world. We are working with India's largest tech companies to help build the country's AI infrastructure, and we see many similar opportunities emerging around the world.
---
Jack Fusco, Cheniere Energy
First place, natural gas
What was the biggest lesson you learned in 2023?
That keeping your head down and focusing on what matters means you are ready to seize upon opportunities when they arise. Our focus at Cheniere has been on operational excellence, on safety, on being a reliable supplier of liquefied natural gas to our customers and to the world. Because we do all of those things at a world-class level, when a year like 2023 developed, when the potential for meaningful growth increased because of the need for secure long-term energy supplies, we were ready with capacity expansion projects. LNG buyers were also eager to sign new contracts based largely on our track record of delivering on our promises. Our contracts are now extending to approximately 2050. Basically, the biggest lesson I learned in 2023 is that it's okay to be boring.
What is the greatest challenge you are facing in 2024?
We are developing a major expansion at our Sabine Pass facility, and my No. 1 priority for 2024 is to ensure we are progressing on the three key pillars of our development process: regulatory, commercial, and financing. This will be a more than $10 billion project, and although there are macro and micro challenges on each of those fronts, we have Cheniere-specific advantages we intend to leverage. So it will be an exciting and rewarding challenge for me and my 1,600 colleagues to move that project forward.
How is geopolitics affecting your business?
Geopolitics is playing an increasingly important role in our markets, particularly as LNG has become a strategically important global commodity. Energy security and long-term security of supply are front and center, especially with our European allies and customers. Approximately 70 percent of all the LNG we've produced in the past 18 months has gone to Europe. With continued geopolitical instability, including recent events in the Middle East, our LNG has never been more critical. It is imperative that we maintain safe and reliable operations to ensure continued supply to our customers.
---
Lawrence Culp, GE
First place, electrical equipment
What was the biggest lesson you learned in 2023?
The biggest lesson I learned in 2023 was something I had long believed to be true, but [I] really saw it come to fruition this year at GE: the power of focus. We successfully spun off GE HealthCare in January, and with them now off and running, fully focused on precision health, I see how they already are more agile in responding to customer needs and more accountable to their industry stakeholders. Within GE Aerospace and GE Vernova, our teams are increasingly operating as distinct businesses as we prepare to launch as two companies in the spring. Our customers can feel our increasing focus and execution around their needs. We are recruiting more top-notch talent to serve each company's critical — and more specific — missions. Our businesses are beginning to exercise more strategic and capital allocation flexibility, and investors are excited for the opportunity to own them as pure plays. We're feeling these benefits already today, and I couldn't be more excited for these businesses to be fully unleashed as independent publicly traded companies.
What is the greatest challenge you are facing in 2024?
Our greatest challenge is also our greatest opportunity — to execute the final stage of our transformation at GE by spinning off GE Vernova and launching GE Aerospace as independent companies this coming spring. GE Vernova is well positioned at the center of the energy transition and has made tremendous progress in its largest businesses: power, onshore wind, and electrification. A smaller, newer business for us, offshore wind, has proven challenging financially and is part of an industry we know is ready for a reset. We'll work through a tough backlog here over the next couple years. The good news is, we have successful turnarounds under our belt in the larger businesses and are supported by demand boosters like the U.S. Inflation Reduction Act. Now we're applying the lessons we have learned in these businesses to offshore wind, taking a disciplined approach to writing new business with rigor on pricing, terms, geographic exposure, and other risks. All in all, we're highly confident about GE Vernova's future as it [takes on] the powerful mission of electrifying and decarbonizing the world. At GE Aerospace, the demand for our products and services within the commercial aerospace and defense industries is extremely robust. This is a welcome challenge for us, but a challenge nonetheless as we work to navigate ongoing global supply chain constraints and scale production to a demand environment that is roaring back from pandemic lows.
How is geopolitics affecting your business?
For more than 130 years, GE has served customers in countries across the globe with unique political systems and domestic complexities. We're mindful of geopolitical dynamics from region to region, and as risks emerge, our teams focus first on protecting employee safety and then on assessing and responding to any impact to our operations, supply chain, and customers. We also benefit from secular growth trends within our industries. GE Aerospace is experiencing robust demand on both the commercial and defense sides, and we expect continued growth in 2024. At GE Vernova, we partner with customers across the globe as governments have a growing recognition that energy security is national security. Meanwhile, our self-help efforts coupled with strong demand have accelerated our power, grid, and onshore wind businesses performance.
---
Jeff Green, Trade Desk
Third place, internet
What was the biggest lesson you learned in 2023?
The biggest learning has been The Trade Desk's transition from a challenger company to a leader. Because we're committed to never owning media, we can objectively help the biggest advertisers in the world choose which ads are the best for them to buy. As we've grown and become a more central partner to these brands, communicating well, acting as a strategic advisor, and innovating have become more important than ever. This has come into view more clearly this year as brands commit ever larger campaign budgets to The Trade Desk. As those commitments grow, trust and objectivity take on new meaning in all our relationships. For me, it's almost a mantra at this point: business is about people and it's about trust.
What is the greatest challenge you are facing in 2024?
Challenges and opportunities are almost always two sides of the same coin. In 2024, The Trade Desk will encounter its biggest opportunity since streaming surged during the pandemic. And that's because Google is doing two things nearly simultaneously. First, it is eradicating third-party cookies (which will be a big problem for many web publishers) starting at the end of the first quarter of 2024. And second, they are launching the "privacy sandbox" product. This initiative will force publishers to implement complicated technology changes that require real development work — resources most publishers don't have. While we represent advertisers and their agencies, of course we want to see the open internet thrive. And for that to happen, publishers have to be able to monetize content. But because of these shifts, they are facing unprecedented headwinds. There's a ton at stake — especially for publishers that rely on the value of relevant advertising, such as the world's leading journalistic outlets. I believe Google is using the cloak of privacy to consolidate more power in its Chrome browser; in its ad server, DoubleClick, and in the massive amount of advertiser demand brought to Google via Google search. These simultaneous moves will make Google's browser a central repository for most user data.
This is potentially devastating for publishers, who will become more dependent on Google than ever, and won't be able to monetize their content effectively. The good news is that the industry has been thinking about this. We're making a ton of progress in adopting new identity and authentication tools, such as Unified ID 2.0 (UID2) that help advertisers find relevant audiences across all digital advertising channels. Similarly for publishers, tools like OpenPass provide a lightweight way for them to authenticate their users and maintain control of their own destiny. With these and other emerging solutions, we are building the new identity and authentication fabric of the open internet — one that preserves relevance for advertisers, revenue optimization for publishers, and privacy controls for consumers.
Next year will be very important for the open internet, because the walled gardens (e.g., Google and Apple) are going to continue to use privacy as a shield to do things that minimize competition. This is an opportunity for us to rally the open internet around a much better alternative — one that preserves the internet as we know it. It's also in this context that we're rolling out our biggest product upgrade ever, Kokai. Kokai will help modern marketers leverage data, AI, and insight to do their most effective marketing yet.
How is geopolitics affecting your business?
The Trade Desk is a global company that happens to be headquartered in the U.S. Our employee base represents many of the world's cultures and nationalities. While we don't have offices in any of the affected countries, geopolitical crises can impact macro uncertainty. At the same time, though, our platform offers advertisers a sense of confidence and agility in their campaigns. People are our most important asset. Recent events have been distressing to many of us, and nothing is more critical to me than making sure our employees are supported during these difficult times.